Athletic Director Updates
Welcome to Algonquin Athletics!
What an exciting time of year!  It is wonderful to see the campus filled with activity.  Fall sports are off to another fantastic start.  With close to 500 student-athletes participating on twenty-one different teams, the gyms and fields are busy every single day. Excitement and school spirit is in the air!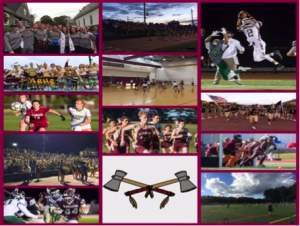 2019 – 2020 Fall Participation Numbers: We have close to 500 student-athletes participate in Fall athletics, slightly down compared to 2019-2020. However, we saw an increase in numbers with Boys' Cross Country, and even numbers with Boys' Golf, Girls' Volleyball and Field Hockey.
Algonquin Athletic Hall of Fame Committee will be conducting the 2019 induction ceremony on November 29, 2019 at 11:30 am in the Algonquin Cafe. The following Inductees will be the induction Class of 2019
Tom Lowe
Kelsey Bourdon
Fran Whitten
Michael Wrin
Emily Bourke
Maynard Southard
Chloe Herczeg
Eric Wright
Derek Swart
Michael Roy
Laurie Griffin
On behalf of the Committee and the Athletic Department, It would be a pleasure if you could join us for the ceremony!  It starts at 11:30 am.
Boys' and Girls' XC: The cross country teams collected food donations for the food drive at there home meet.  Included players and parents submitting many food donations. Athletics joined forces with student council and advisor/teacher John Barry who runs the program through the school. It is very successful!
Fourteen team members, coaches and parents participated in the Community Harvest Fest 5k in Grafton.  The Community Harvest Project (CHP) is a non-profit farm that engages volunteers to grow fresh fruits and vegetables to provide to those experiencing hunger.  CHP improves access to healthy foods for individuals and families in need across Worcester County.
The team organized a bake sale through the school with all proceeds benefiting the Back On My Feet (BOMF) organization.  BOMF combats homelessness through the power of running, community support, and essential employment and housing resources. The girls raised $255 to donate.
The team collected 31 pairs of shoes and about 30 clothing items to donate to a non-profit organization sending items to youth in poverty in the Dominican Republic.
The leadership of Coach Marieni, Coach Colon, and the four senior captains (Sara Prendergast, Karmyn Shreeve, Kathryn McCarthy, and Rudy Utzschnieder) made all of this possible along with the support of the entire team and their parents.
T-Hawk of the Month –September: Alex Moll-Field Hockey, Karmyn Shreeve-Girls XC, Taylor Moore-Girls' Soccer, and Rio Ferguson-Football, Derek Blanchard – Football, and Riley Greenwald – Football –
October – Sara Berg – Girls Soccer, Jacub Carulli – Boys Soccer, Kaley Sommers – Color Guard, Nicole Howard – Cheerleading, Hayley Gillerin – Field Hockey, Charlie McLarnon – Boys XC, Kathryn McCarthy- Girls XC.
This is for a male and female athlete that's voted on by coaches/ teammates: This award recognizes outstanding student-athletes for their demonstration of leadership, teamwork, sportsmanship, and excellence on and off the field of play
Athletic Council – we are up and running and AC continues to be active in empowering student-athletes while feeling invested in the athletic department.  Allows our student-athletes a chance to enhance school spirit and good sportsmanship, be active in community service and establish team contracts to promote good decision making. We have subcommittees where students are involved in such as Community Service, Hall of Fame, Policies, Leadership, School Spirit, and Game Management.  Some events in motion are….. We've held four Atheltic Council meetings since the beginning of the year and discussed the importance of leadership, participated in team-building exercises, and small group work.  New this year is all Fall Captains will participate in Athletic Council which will now incorporate leadership activities and also recognizing the IRON T-HAWK recognizing (3) Sport Athletes outside the athletic office.
Athletic Council is sponsoring the Code Tomahawk contest again this year, which is helping to keep attendance up at athletic events while promoting a sense of camaraderie between teams. Code Tomahawk will extend beyond athletic events and attending a Fine Arts Department Production. This is another level of school camaraderie and by attending non-athletic events will allow student-athletes to show support beyond the court and athletic fields. – Due to many schedule changes during the month of September and October, Code Tomahawk will begin during the Winter Season.
October also kicks many leadership training opportunities throughout the year for our Ambassadors Program through Athletic Council – We have 3 ambassadors, Lucy Gauvin, Nick Alcock, and Danielle Adams. We're hoping to attend 3 leadership conferences throughout the year. Our first MidWach leadership workshop was on Oct 17th. We will attend our next student leadership workshop on November 22nd at Gillette Stadium.
Captains Breakfast – sponsored by Booster Club took place on October 16th and this is for all our fall sports team captains and this breakfast will focus upon leadership and identifying the role of team captains. Our next breakfast will take place in January for all Winter Captains
National Signing Day – Took place on November 13th  for all Division 1,2 and 3 student-athletes who have the ooppertunity to play in College. We has 11 Atheletes sign there National Letter of Intent on 11/13. 3 Boys Lacrosse players attending St. Anselms Noah and Nick Larsen and Henry Alford, Girls Lacrosse players Olivia and Chloe Chiota both attending Hamilton College and Sydney Guidi attending Christopher Newport College.  2 Baseball players Patrick Solomon attending Tufts University and Levi Carter Frem attending Endicott College. Girls Diver Lizzie Meschisen attending Northeastern. Grace Oelkers attending Clark University to play soccer and Boys Soccer player Trevor Burns attending Georgetown.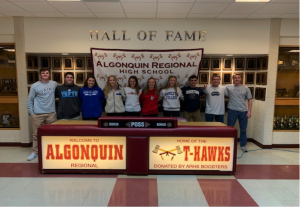 Season Results: (4) Midwach A League regular-season champions (Field Hockey , Boys and Girls Soccer, Volleyball) 1 Midwach Tournament Champion (Golf) and 1 Mid Wach A League Meet Champion (Boys XC). (2) CMASS Champions ( Boys XC and Girls' Soccer)
Scott Taggart Girls Soccer and Ken Morin Boys Soccer won MIDWACH Coach of the Year honors for there outstanding seasons.
Boys' Soccer has an overall record is 11-1-5, finished as regular season Midwach A  League Champs and earned a 2nd  seed in the MIAA Playoffs and lost to Westboro on the Quaterfinals.  Girls' Soccer has an overall record of 14-0-3, finished the regular season as Midwach A League Champs and earned a 1st  seed in the MIAA playoffs, and beat Wachsuett in the CMASS Finals – but lost to Westfield in the State Semifinals.  Field Hockey had an overall record of 15-1-2 and finished the regular season as Mid Wach A League Champs and earned the 2nd seed in the MIAA playoffs and lost to Nashoba in the District Finals. Volleyball has an impressive record of 16-2 and finished the regular season as Midwach A League Champs and earned a 3rd  seed in the MIAA playoffs and lost to Hopkinton in the Semifinals. Boy's Golf finished there season with an overall record of 7-8-1 and won the Mid Wach A League Tournament.
Girls' Cross Country is 4-2 and finished 3rd at the Midwach A League meet and finished 2nd in the CMASS Division 1 Meet.  Boys Cross Country is 5-1 and won the Midwach A League Championship meet on 10/26, the first time in 20 years and are CMASS Division 1 Champions for first time in school history.  The football team is 4-6 and earned the programs 300 win when they beat NM. Cheerleading Performance team finished 2nd place and Gameday finished 4th at the Shepherd Hill Invitational and at MidWach League Games Day finished in 1st  and 10th at States and the Performance Team finished in 6th at Leagues 7th at Regionals.  Unified Basketball completed there regular season when the faced Nashoba, Groton-Dunbtsbale, Shrewsbury and Marlboro. ARHS for the second year will hold Special Olympics/Unified Basketball Jamboree on 11/21 where 7 areas schools compete in numerous basketball/skills games.
I would like to say thank you to Booster Club for continued support and dedication to our student-athletes. Boosters and Athletics will continue to work together for future upgrades to our fields and facilities.
Current Athletics and Boosters worked together to spend $2,000.00 towards equipment upgrades in the weight room. New equipment includes weight sleds, training ropes, agility ladders, resistant bands, a bodyweight pegboard, and 12 new medicine balls.
Current Project: New Atheltic Sports Complex
Special thanks to those that make all of this possible – Central Office and Principal Walsh and the Admin team at high school, facilities for hard work and help preparing the fields, Jon Drisko Athletic Trainer, superb coaching staff, Susan Baburins who is far more than an administrative assistant, and our truly outstanding student-athletes.
Before you know it we will be gearing up for tournament play and then preparing for the opening of the winter season.
Day or night, I hope to see you all at the games.
Go T-Hawks!
Mike Mocerino
Director of Athletics