Athletic Director Updates
A Message from our Director of Athletics
Winter 2020   3/3/2020
As is the norm for Algonquin Athletics, our student-athletes continue to represent their school and communities with outstanding performances on the field, by exhibiting sportsmanship, and through excellence in the classroom. Please show your support for these fine young men and women by continuing to attend their games, both home and away during the spring season.
T-Hawk of the Month: We had 18 T-Hawk of the Month award recipients between the months of September – November. This award continues to recognize outstanding student-athletes for a demonstration of leadership, teamwork, sportsmanship, and excellence on and off the field of play.
December – Sophia Fontecchio-Girls' Basketball, Day Ruffo- Girls' Track, Josh Tattelman-Swim/Dive, Lizzie Meschisen-Swim/Dive,
 January – – Patricia Biamou-Girls' Basketball, Alexi Wong- Swim, James Carroll-Swim, Rudy and Mina Utzschneider-Ski, Lucy Postizzi Ski,
February – Quin Potter-Boys' Track, Ben Cotter-Boys' Ice Hockey, Kerryn O'Connell-Girls' Ice Hockey, Angela Lin-Swim/Dive, Will Saulnier-Swim/Dive, Lizzy Debroczy-Gymnastics
Captains' Breakfast is being held on Wednesday January 29th for all winter team captains. All captain's participated in group work trying to answer the questions "What is my role and why was I voted Team Captain?" This group work also focused on leadership.
Athletic Council: we are up and running in the winter and AC continues to be active in empowering student-athletes while feeling invested in the athletic department. We've held six Athletic Council meetings since the beginning of the year and discussed the importance of leadership, participated in team-building exercises, and small group work. New this year is all fall, winter and spring Captains will participate in Athletic Council which will now incorporate leadership activities and also recognizing the multiple sport athletes. In December, student ambassadors Nick Alcock, Lucy Gauvin and Danielle Adams attended a Leadership Conference at Gillette Stadium. On February 7th Lucy Gauvin and Danielle Adams attended National Girls and Woman in Sports Day in Boston.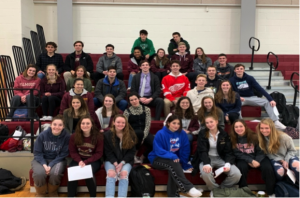 Athletics and Flaherty Physical Therapy – On March 13th – will be launching a new screening program geared towards injury prevention – Flaherty Physical Therapy will be working with our boy's soccer team and our gymnastic team. The focus of the screen is to assess any physical limitations that may predispose the athlete to injury during their season. Each individual athlete will be given an individualized assessment form that will have all the results noted for your review. Specific recommendations will also be attached to get the athlete to participate in their sport of choice and help prevent injury during the season. The main parts of the screen will be addressing:
Posture
Flexibility
Lower body power
Core stability
The primary goal of this program is to teach the athletes the importance of year -round conditioning to help improve their athletic participation to allow for athletic success.
Winter Season:  We have close to 380 student-athletes participating and saw an increase in Gymnastics, Wrestling and Skiing. All great news!
Winter Season Results: as of 3/2/20
Boys' and Girls' Basketball: Boys Basketball played at the TD Garden in the Good Sports Invitational on January 25th and beat Somerville 50-49. Boy's team has an overall record of 12-8 and qualified for tournament. Beat Holy Name in the preliminary round and lost to St John's in the 1st round. Girls' team is 6-14 and ended the season with a win in the Westborough Tournament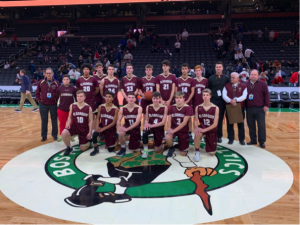 Boys' Hockey lost in the Boro's Cup semifinals and the Daily News Day Finals Tournament at the beginning of the season and ended the season winning 5out of 7 games with an overall record of 10-8-2 and qualified for playoffs. Lost to Marlboro in the first round of the playoffs
Girls' Hockey holds an overall record of 13-4-3 and clinched an 8th seed and lost to Westwood in the first round of the playoffs.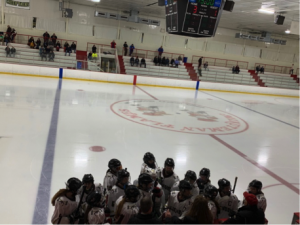 Ski: Girls won again and finished with an undefeated season. SIX girls qualified for states on March 4th!!! Rudy Utzschneider, Luciana Postizzi, Mina Utzschneider, Lauren Dratch, Jula Utzschneider, and Elly Beauchesne. M Clark is the only boy to have qualified
Boys' and Girls' Swim and Dive Girls' were MidWach League Champions and finished the season undefeated 9-0 and boys finished in 2nd at the league meet and finished the season with an 8-1 record
Gymnastics finished the season undefeated with a record of 13-0, Midwach League Champs for the 4th time in a row and won the South State Sectionals. Finished is 2nd place at States and will compete at New England's on March 14th
Boys' and Girls' Track: Boy's finished the season 0 – 5, Austin Mowry was League Champion in the high jump 6′ 2″ and also a League All-Star. 8 boys qualified for the Class "B" state meet. The girls' track team is 3-1 on the season.  Finished 2nd place at MidWach A league meet and 2nd place in MidWach A league overall standings.  For the first time in the 42 year meet history, our Algonquin Girls Indoor Track team won the Cmass District Championship Meet!!  Individual event winners include Day Ruffo (300m) and Anna Long (1000m).  The 4x200m relay team consisting of Christina DeFeudis, Danielle DeFeudis, Gracie Hartnett, and Day Ruffo ran away with a convincing win.  The 4x800m relay team consisting of Olivia Kardos, Kathryn McCarthy, Julia Kardos, and Anna Long had a stunning come from behind victory!  Many more girls contributed to the team title! We have 9 Leagues All-Stars, 9 individuals qualified for the Class B state meet, and all 3 relays qualified for the Class B state meet.
Wrestling is 11-13-2 and 3-2 in the Leagues and 5 wrestlers competed at Div 2 Sectionals. Rafael Knapp competed in New England's.
Cheerleading: Game Day cheered at home boy's and girl's basketball games and in first place in the Shepherd Hill Invitational. Will compete at Regional's on Sunday March 8th
 Weight Room Additions: We are committed to maintaining the equipment in the weight room for our student-athletes.
 Thank You to the Booster Club for continued support and dedication to our student-athletes. Boosters and Athletics will continue to work together to support our teams and invest in future upgrades to our fields and facilities. All the individual teams and team representatives did an amazing job this fall by helping with concessions, acting as tickets takers, organizing fundraisers, and the providing tremendous overall support provided for our student-athletes
Current Project in conjunction with ARHS Boosters:
Sponsorships and Donations for our athletics fields and indoor facilities
Multi-Sports Complex
Strength/Conditioning Coach – Working on a partnership to provide strength and conditioning for all our athletes in and out of season. Goal: launch in May, start in June
Boosters/Athletic Golf Tournament June 25th, 2020
A special thanks to those that make all of this possible: Central Office, Superintendent Martineau, Principal Walsh, the Admin team at ARHS, facilities department for their hard work and help preparing the facilities for practices and games, Jon Drisko our Athletic Trainer, our superb coaching staff, Susan Baburins who is far more than an administrative assistant, and our truly outstanding student-athletes.
Please continue to show your support for these fine young men and women by attending both home and away games this winter season.
See you at the games!
Go T-Hawks!
Mike Mocerino
Director of Athletics
Algonquin Regional High School